With prices starting as low as R4 199 you can lay your hands on an Essential AMD A-Series computer featuring 4GB Kingston Hyper-X gaming RAM, 1TB Western Digital Blue HDD and HLDS 24x DVD-RW.
Assembled on an ASRock A320M-HDV socket AM4 mATX motherboard and built into a SAMA M35 mATX black mini tower this is the ideal entry level gaming and media PC.
The ASRock A320M-HDV mobo supports the AM4 A-Series APUs (Bristol Ridge) and Ryzen Series CPUs (Summit Ridge), supports DDR4 3200+ (OC) and features 7.1 CH HD Audio (Realtek ALC887 Audio Codec).
Hook up 3 more SATA hard drives (total 4 x SATA3 slots) and a Ultra M.2 (PCIe Gen3 x4 & SATA3) and load it up. And if that's not enough, this little beauty also has 6 x USB 3.1 Gen1 (2 Front, 4 Rear) ports.
Essential AM A-Series bundles
The above-mentioned price is for the bundle with the 7th generation AMD A6 9500 3.5GHz (base clock) 8-core APU, with 2 cores dedicated to the CPU and 6 cores handling the Radeon R5 Series built-in graphics. Max boost clock is an impressive 3.8GHz.
But for just a few dollars more you can cast your greedy eye on the bundles with the A8 9600, A10 9700 or A12 9800 APU, the latter bundle going for only R4 999 while stocks last.
Go large!
The Essential AMD A-Series bundles are also available with ASRock AB350M-HDV motherboard.
The AB350M-HDV (High Definition Video) has all the same features of the A320M-HDV, same number of slots and ports, HDMI, DVI-D and D-Sub ports, can also handle 3 monitors, also handles up to 32GB or RAM and also supports up to 3200 MHz DDR4 but has 9 power phases instead of 7.
The AB350M-HDV will allow you to get the max out of the advanced media and display performance of the Radeon R-Series GPU embedded on these features A-Series APUs, especially with the A12 9800.
To refresh your mind, the A12 9800 is a 12-core APU with 4 cores dedicated to the CPU and 8 cores running the Radeon R7 Series GPU. Base clock is 3.8GHz but you can stir it up to the 4.2GHz max boost clock.
Essential AMD A-Series bundles prices
Go faster!
If you are looking for more speed, especially if you are planning on a PC for video editing, consider running your software on a Solid State Drive. As we've previously explained, typically, the read/write seek time on a SSD is 0.1 ms (milliseconds) while that on a HDD is anything from 2.9 ms to 12 ms.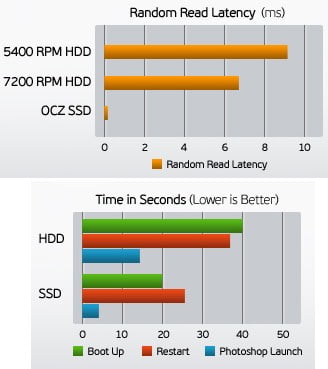 Here at Essential IT Solutions, the Western Digital Blue SSDs have been marked down to compliment the Essential AMD A-series bundle specials. This is a fantastic upgrade for any serious gamer or media editor.
You'll find the WD Blue SSDs in the Internal SSD category.
For more info on the Essential AMD A-Series bundles, click on any of the images or point your browser to the Essential Desktop PCs category.